Reliable workforce with quality results
It all started with recycling and has grown into a reliable workforce that is ready to take on more challenges. Thanks to the support of the Fulton County Commissioners, Triangular Processing is able to run a recycling center for all of Fulton County. We also collaborate with a variety of businesses to provide them with a quality product and a trained workforce.
Recycling and Confidential shred
We process over 2 million pounds of recycling per year on behalf of the Fulton County Commissioners. Confidential shredding services are also available and include a certificate of destruction.
Business Recycling Routes
Triangular Processing provides scheduled and on-call pickups for businesses throughout Fulton County. We provide recycling containers and personalized pickup services. If you are interested in learning more about how we can help your business with its recycling and shredding needs, or you would like a free quote for services, give us a call at 419-337-9640.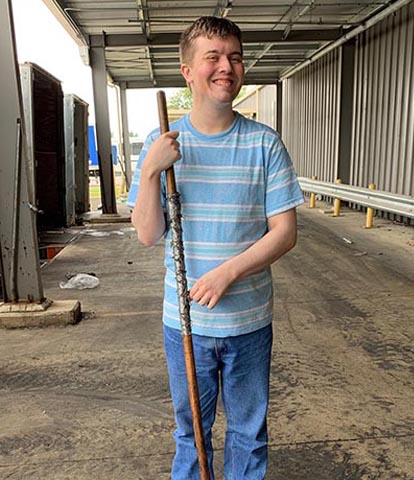 Recycling drop off locations
 WAUSEON
550 W. Linfoot St.
Cardboard and recycling available 24/7
ARCHBOLD
Holland Street (Between Linda Ct. & Farmington Rd)
Recycling available 24/7
LYONS
Eagle Street (West of Noble Street)
Cardboard 24/7, Recycling 9:00 a.m.-1:00 p.m.  –  Saturday
METAMORA
Mill Street (Next to the Fire Station)
Cardboard and recycling available 24/7
PETTISVILLE
Pettisville Community Park (Dame Street)
Cardboard 24/7, Recycling 2nd Saturday of the month 8AM-12PM
PIKE TOWNSHIP
10810 Co. Rd. 10-2
Recycling only, 2nd Saturday of the month 9AM-12PM 
Items we CAN Recycle:
Aluminum Cans
Books without covers
Cardboard
Cell Phones
Computers
Detergent Bottles
Magazines
Milk Cartons
Newspapers
Paper
Plastic (1 & 2)
Plastic Coffee Cans
Steel Cans
Items we can NOT Recycle
Plastics (3, 4, 5, 6, 7, 8 and 9)
Window glass
Drinking glass
Pottery
Styrofoam
Rubber
Containers with oil
TVs
Tempered glass
Hazardous material

Triangular Processing
Office Hours:
Monday-Friday 8AM-4PM
24/7 recycling drop off site